The Cheese Litter

5:th of February 2011

Males
Manchego, red

Females
Gruyère, lilac tortie
Halloumi, blue
Brie, blue tortie

Sire: FIN*Feirefiz Abraracourcix
Dam: S*Dragonheart's Olympia

Pedigree

More Pictures


---

11:th of May 2011
Yesterday they went to the vet and got their last shot and identity chip. They behavied so good and the vet was thrilled about them. Starting to cuddle on the examination table and purring louldy, the only problem was listening to the heart through the loud purrs. So now they are all ready for their new lives, they are starting to move to their new homes on Saturday. We are so happy that they are getting such wonderful new families but we will miss them terribly. It has been such a lovely litter.

17:th of April 2011
The kittens are developing really well. They are starting to show their personalities and looking more like small cats. They are very energetic and and so social. They have started climbing up on you and competing about sitting on your shoulder, just like their mother does. They are so playful but very contact seeking. They play around you and when they get tired they come up to your lap with loud purrs.

1:st of April 2011
The kittens are thriving and have started to explore their surroundings. Everything deservs a thorough examination. But they still have time for a cuddle and comes crawling up you lap to rest and taste any string you might have on your clothes. They are all adorable and just like burmese kittens should be, curious, playful and very social.

8:th of March 2011
The kittens are growing and have started to move around abit more, they have taken the first tries at playing with eachother and at grooming. They are starting to pick up speed now too so taking pictures is getting increasingly harder when they want to wobble away and explore the world.

5:th of February 2011
Finally our 8th litter is born. Olympia is a very protective mother and takes excellent care of her young. Aunt Rhodes is helping alot with both support and hygene. Please contact me if you are interested in one of these cuties.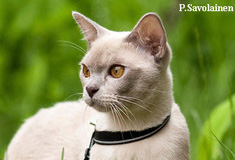 Proud dad Sixten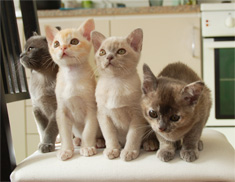 >
10 week little monsters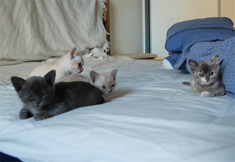 7 weeks calm before the storm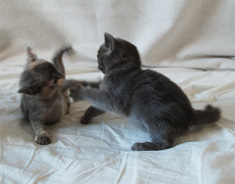 Hints about what is coming? 6 weeks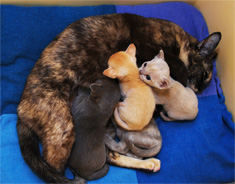 Getting bigger, 4 weeks old.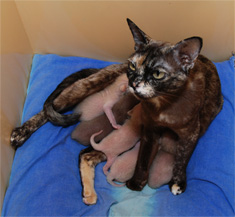 Olympia with her babies!