The Pantera Litter

14:th of November 2006

Females
5 Minutes Alone, lilac tortie


Sire: S*Shamrock's E-type
Dam: CH S*Dragonheart's Primoris

Pedigree

More Pictures


---

14:th of February 2007
The house is empty again. Five has moved to her new flat and has already started feeling at home. We are thrilled over her wonderful family and we are sure she will have a great life there. She made a real impression on the vet too, whom wanted to take her home right away. Everyone that meets her falls head over heels in love with her. She is a real special little lady although she can be quite a rascal aswell.
So life is returning to normal here although Primoris and Odette are missing the baby. But it is also nice to have a little peace and quiet.

3:rd of February 2007
Our little baby is not so small anymore. Soon she will leave us for her new home. She will have the best new parents a little kitten can have and she will also become a citygirl. We are so happy for her, but we will miss her a lot of course. It is so special with only one baby, you connect ever harder since she has no siblings. She is very courageous and social, she loves being the center of attention and greets visitors with caresses and attacs. She is so much fun!

25:th of January 2007
A new year has already come upon us. The little girl is growing so fast, it is obvious that she doesn't have competition over the food. She tries everything and is very cocky towards her mother and big sister. But she is also so sweet, comes running as soon as she hears one coming and starts purring rigth away.

17: th of Decemer 2006
Christmas is closing in on us and our litte baby is growing fast. She has now been investigating her surroundings and is very bold. Odette has taken her in and is an extraordinary big sister. She plays with her, comes a soon as she is calling and tries to feed her. The latter is not going very well though. But I think she will be an exceptional mother in the future. Our baby has also been given a nickname, Emilia, which Hugo's owner have chosen. A pretty name for a pretty girl.

21:st of November 2006
Two beautiful babies met the world on the 14:th. Sadly the little girl never made it and became a little angel. We miss her so. Her brother although, is a big and strong lad. Gaining a lot of weight and seems very content with life.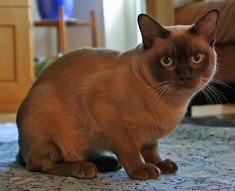 The beautiful father Hugo!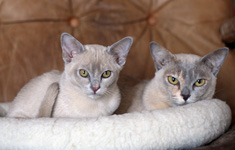 12 weeks old with mommy.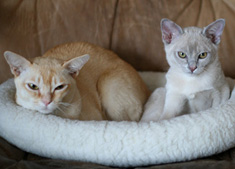 Resting with big sister Odette.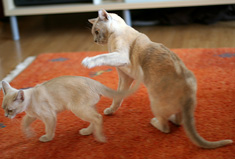 Playing with mommy.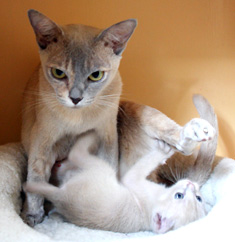 Already four weeks old.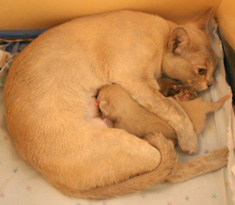 Primoris with little Five.