The Primordium Litter
(latin for: first beginning, origin)

18:th of January 2003

Males
Principatus, brown
Primitus, chocolate

Females
Princeps Domina, chocolate tortie
Primoris, lilac tortie


Sire: CH Boyagarrie Crème Cryptonite
Dam: CH S*Kikirikis Carmina Cayenne

Pedigree

More Pictures


---

Show Results
Princeps: CH, 1 BIS, 2 NOM, 1 BOB (BA special)
Primoris: CH, 2 BOX, 3 NOM


---


29:th of April 2003
All the babies have now left except for Princeps who is going to stay with us. It feels so empty, we miss them a lot. But it feels really good that they have gotten such a great homes with wonderful families who loves and cares for them plenty. Primoris have moved in with Anna's parents, but we still own her and have the breeding rights for her. So hopefully she will have a litter or two in the future. She has really found her place and we are so excited to see how she will develop and turn out. We wish the all the best!
Cayenne and Princeps is getting along great. It really show how fun Cayenne thinks it is to have someone to play with. They chase eachother and tumbles around wrestling when they are not lying in a pile together, sleeping or washing the other.
To sum it up, we have to say that we are very pleased with our first litter. The kittens have all turned out well and found lovely families. It has all gone well without any major complications. It has been so much fun and interesting. We are looking forward to our next litter with great expectations. With everything we have learnt so far we will hopefully grow more as breeders and take on new challenges in the future.

19:th of March 2003
Now have everyone found their new homes except for Primoris. But for such a sweet and pretty girl, it shouldn't be a problem.
Otherwise the all are just fine, growing more every day. They have also gotten dewormed, and on friday they will get their first shot.
Their newest amusement is trying to escape. They have gotten a larger playpin, but the grass is still greener on the other side. So we've gotten our work cut out for us, but they are absolutely gorgeous. You can already see their diffrent personalities develop.

9:th of March 2003
Primitus has found his new mother! He will stay here on Södermalm, it will be very nice to have him so close.

26:th of February 2003
Everyone has now gotten used to eating real food and how to use the litterbox. That have increased their growthrate a lot. It is amazing how much they know by instincts. Their colorations are starting to appear more and more. Little monsters that are jumping around attacking eachother. But as soon as one comes in and sitting down, they all come running. Climbing around for a little while before they settles in the lap and falls asleep rigth away. So cosy!
Principatus is now booked. In his new home he will get a big brother, a red Burmese boy, in addition to his new mom and dad. We are so happy for him!

13:th of February 2003
The babies are doing well. Growing a lot. Now they're starting to resemble real cats. The have also gradual become aware of the surroundings. Everything is an adventure and playing is the most fun of all. If it gets scary you can just shout for mom, who quickly comes to the rescue.

30:th of January 2003
Now they have all opened their eyes, everyting is going fine. The dogs are thrilled and ready to assist as soon as any of the babies sqeek.

18:th of January 2003
They have finally arrived! Four babies was the result. They were born at nigth beteween 1.15 and 2.42 am. Everything went well and they have all started eating.
So far it is a little early to see their colour, but we can say as much as that it is two light tortiegirls, one light boy and one dark boy.

7:th of January 2003
Cayenne is just growing bigger and bigger around her belly, but she seems quite happy with her conditon. So far everything is going well.

5:th of December 2002
All signs point to that Cayenne is pregnant, so now we just have to wait. It is so exciting!

15:th of November 2002
Right at this moment Cayenne is visiting the gorgeous Boyagarrie Creme Cryptonite (BUR e). He is an australian import with a wonderful temper and the most beautiful eyecolour you can imagine. If they fancy eachother the result should see daylight around the 19:th of January!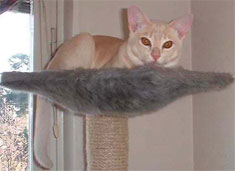 The proud dad Crypto!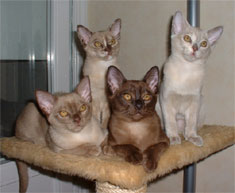 Last photo of them all together, 12 weeks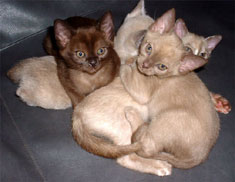 Kittypile 8 weeks old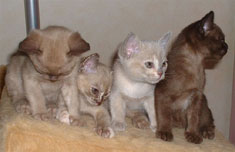 All together! 7 weeks old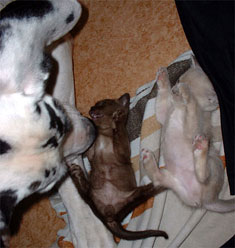 Honey with "her" babies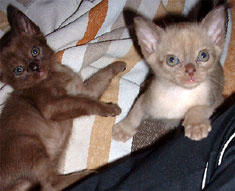 The boys playing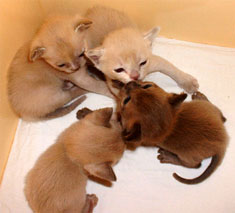 3 weeks old kittens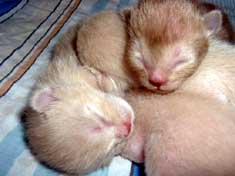 Nice with siblings, ½ week old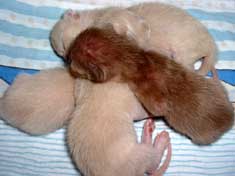 Full and content, ½ week old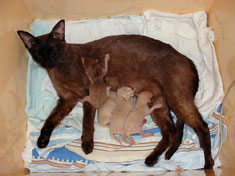 The mother with her babies