The Seven Wonders of the World Litter

24:th of December 2005

Males
Halicarnassus, brown
Ephesus, brown
Babylon, red

Females
Olympia, brown tortie
Alexandria, creme
Rhodes, red
Giza, creme


Sire: Svantebergs Emilio Moro
Dam: CH S*Dragonheart's Princeps Domina

Pedigree

More Pictures

Video 3 Weeks Video 5 Weeks


---

Show Results
Olympia: 1 CAC,1 BIV, 1 BIR, 3 NOM, 1 BIS
Rhodes: 1 CAP, 1 NOM


---

24:th of March 2006
Now all the babies have moved out except for Olympia & Rhodes. They will be staying an extra two weeks before moving home to our good friends. It is really nice to be able to keep them a litte while longer, it is so quiet here now. But although we miss the babies a lot, we are so happy about their new super families. The will have a great life there and we wish them all the best!

13:th of March 2006
The kittens have be to the vet for the first time. They did excellent, behavied so well. They are very playful and so cuddely, absolutely adorable! We have also been to Norway, to pick up the newest addition to our family, a sphynx kitten named Asti. She fitted rigth in from the start and became best friend with the babies right away. They are having so much fun together, playing and sleeping tight. It is as though she has always been here. Extraordinary!
The brown boys have also gotten their new homes. Both will stay in Stockholm, it is so nice to have them close by. Ephesus will get a brown burmese big brother and Halicarnassus will have a brittish shorthair friend. We are delighted over their super new families! Now we only wish that Babylon will find his new home soon.

26:th of February 2006
Time truly flies. The babies have now crossed the 8 week line and are not so small and innocent anymore. They are running around in a crazyed inferno, constantly attacking eachother. But when they get tired, they come crawling up the lap, loudly purring. What can be better than a pile of seven babies cuddeling with you? They are so amazing! We love them all so much!
All the girls have now gotten their homes. Giza is moving to Kolmården and besides her new mom and dad, she will get a bigbrother and a canine friend. I bet she will feel right at home! Alexandria is moving all the way up to Sundsvall to her new family, where she will be the center of attention. Rhodes and Olympia are moving to our really good friends Tobbe & Dawn, so fortunatly we will se them a lot in the future aswell. We are so happy about the great homes the girls are moving to!

1:st of February 2006
The kittens have now learned to climb up their cat tree, but not how to get down. They are very playful and cuddely. As soon as you sit down, they climb up your lap and wants attention. They are adorable!

22:nd of January 2006
The kittens have now crossed the four week line. They have tried real food, some of them loves it, while others still prefer mommy's milk. They have also tried to eat the litter in the litterbox, but amazingly aslo used the box as it was ment to. They are getting wilder and faster every day now, soon we'll have them hanging from our curtains I suppose. But all is going well, they are so precious!

1:st of January 2006
The babies are already one week old. They are growing well, Princeps has a lot of milk fortunatly. Almost all of them have opened their eyes. We have decided the theme for the litter, the places where the seven wonders of the world stands/stood. Because the truly are wonders and seven of them too.

24:th of December 2005
The babies was born on Christmas Eve morning. Seven, incredible! The are all well, eating and sleeping alot. Princeps is such a good mother, very dedicated. It is so nice to have a bigger litter, but I suspect we will have our hand full in a couple of weeks.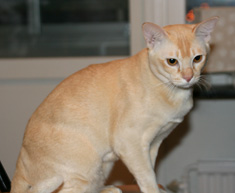 Cute daddy Mille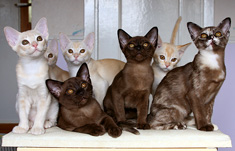 Last pic of all together, 12 weeks old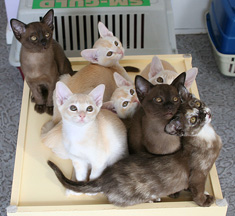 Ten weeks old marauders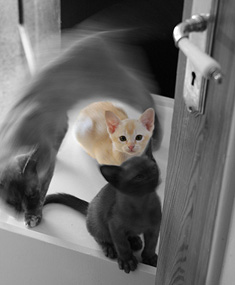 Playing eight weeks old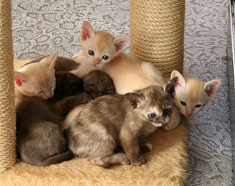 Tired five week kittens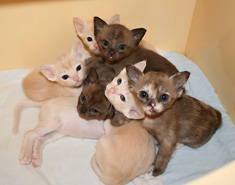 Four weeks old monsters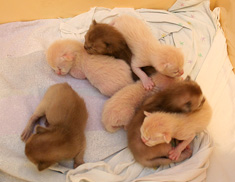 The babies one week old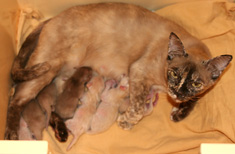 The newborn babies