The Swanlake Litter

18:th of October 2004

Females
Odile, lilac tortie
Odette, red


Sire: EC S*Deerhunters Igor
Dam: CH S*Dragonheart's Primoris

Pedigree

More Pictures


---

Show Results
Odile: CH, 1 BIS, 3 NOM, 1 BOB-A (BA special)
Odette: CH, 1 CACIB


---

20:th of January 2005
Odile has moved to her new home now and we miss her a lot. But to our great joy, she moved in with our good friend Helena and her cousin Flora. They became friends almost right away and are now inseparable. She couldn't have gotten a better home!
Odette on the other hand is staying with her mother Primoris. She is really a great girl with a promising look, so we have a lot of hope for her in the future. I also think that Primoris appreciates to have a friend, now that her family sadly enough has gotten smaller. So now we just wish all the best to both of the girls! Hopefully we will se them both on the judging tables in the future.

23:rd of Decemeber 2004
Time really flies. We have already had them for two thirds of the time. Their personality's are developing a lot right now and we are getting to know them as individuals. But they both have gotten the wonderful Burmese temperament. So social and cuddely, when they have the time of course. A lot of playing is high priority. But crawling up in the lap in front of the television when you're getting sleepy is a given. Then you have to pet them as they sail away to the land of dreams.

2:nd of December 2004
The girls have now grown up a little. They have also gotten their names, Odette & Odile from Pjotr Tjajkovskij's famous balet Swanlake. I love both balet and opera and Swanlake lies extra close to my heart since it was the first balet i ever saw.
Odette is probably a little wilder than her sister. She is always the first in place although Odile isn't far behind. Same as Flora, I wonder if the babysisters always are the worst ones? Cuddelysausages are they both anyway!

1:st of November 2004
The girls are doing just fine. You can almost se them growing. Both of them opened their eyes a week ago and are now beginning to look like real cats. It is going to be so exciting to see what the ladies will develop in to, especially with such a gorgeous dad!

22:nd of October 2004
The result was two pretty girls! Everything went well and they both weigh 92 grams. Primoris is a great mother and is taking such a good care of her young ones. They are eating and growing to their limits. It is so fun to have babies in the house again! Honey is so happy over them! Babies and food are her greatest interests.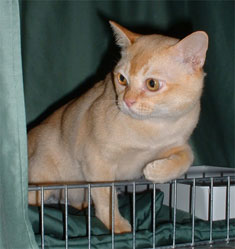 Gorgeous daddy Igor!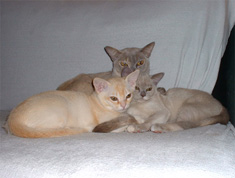 The last picture of the whole family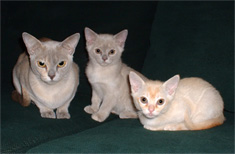 The whole family, the girls 9 weeks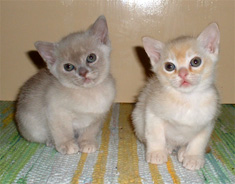 The girls 5½ weeks old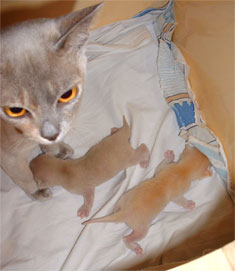 The proud mom with her babies!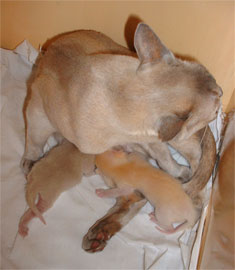 All together