The Systema Naturae Litter

1:st of April 2004

Females
Fauna, chocolate
Flora, lilac


Sire: IC S*Deerhunters Izor
Dam: CH S*Dragonheart's Princeps Domina

Pedigree

More Pictures


---

Show Results
Flora: 2 BIS, 2 NOM


---

2:nd of July 2004
Both of the girls have now moved out. Flora found her new mom at last, and we think they will be very good for eachother. We miss them a lot offcourse, but it feels very good that they have gotten such great homes.We can only wish them fortune and glory in the future. Hopefully we might see them on the judgingtables sometime.
I think Princeps thinks that is kind of nice that they have left, although she surely misses them too. She is starting to relax now and has become her usual cuddely self. She is a real lapcat. She and Cayenne is getting along better again. They are playing and sleeping together as they did before. We are really happy that the peace in our house is restored again and that everybody are friends. Now we turn our attention to Primoris litter, which is due soon and hope that everyting will go smoothly.

2:nd of June 2004
The girls have had their first shot today. It went well and they behaved exemplary at the veterinary, so we were very proud. Fauna has found her new home with a lot of Burmese friends, where we think she will do wonderful. We are very happy about it. Flora, who really is a super girl, has not yet found her new family. So if you can offer her a good home with lots of love, don't hesitate to contact us.

31:st of May 2004
The cute little kittens has turned in to minimonsters. Everything in the vicinity will undoubtedly be played with. Resitans is futlie. You just see two flashes flying around. But the seem to have lots of fun. Everyting is exciting and must be looks closely at. I wish I had their energy, I would really get a lot done. When they finally tires, the come crawling up your lap and suddenly you're sitting there with two small and one big cat purring soundly. Sure, it gets hot with three radiators in your lap, but I can promise that is surely is very nice!

1:st of May 2004
The girls are growing and growing and has now slowly started to move around outside the nest. On small unsteady paws they are trying to play with eachother and mommy, but the legs don't always carry them to where they are trying to go.

18:th of April 2004
The girls are eating, growing and doing very well. Princeps is such a good mother and is pampering her young ones. The are getting a little more active now, soon they will start trying to escape the nest. Luckily Honey is helping Princeps to keep track on the babies. As soon as any of the girls are whining, Honey comes to the rescue. Babies is one of her favourite things in the whole wide world.

1:st of April 2004
Now they have finally arrived. Two beautiful little girls. Princeps emediatly started tending to them and seems to be a very good mother.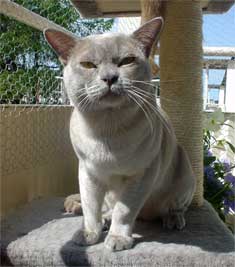 Daddy Izor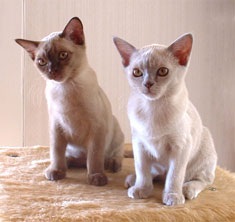 The last pictures of the sisters together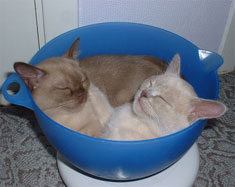 The girls 9 weeks old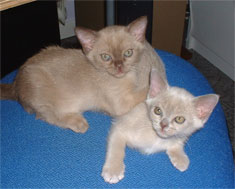 Little monsters!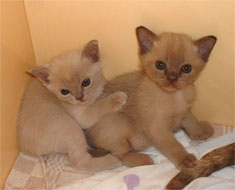 The girls 4 weeks old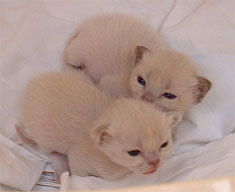 The sisters 2 weeks old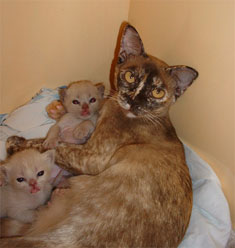 Princeps with her babies 2 weeks old