The World of Warcraft Litter

14:th of April 2007

Males
Orgrimmar, creme with white
Darnassus, black with white


Females
Tranquillien, black tortie
Auberdine, black with white


Sire: EC Zineddin Zidane Jumandgi
Dam: Martini Asti av Ochremenko (N)

Pedigree

More Pictures


---

11:th of July 2007
The babies has now reached the age of twelve weeks. They have grown so big and everything in the house is in constant danger. The y managed to break a wase a couple of days ago, but such is life for a breeder. You get so much joy out of it as well, so whats a wase or two.
The vet was here today, the kittens were so good although the needles are huge. We were so proud of them. Soon they will start moving aswell, which brings mixed feelings as usual. We are so happy that they will get their very own home where they will be loved, but we will miss them a lot. Orgrimmar is still looking for a family and we hope that he finds it soon.

28:th of June 2007
The babies have gotten their first shot, they were so brave. This was the first time we used a housecalling vet and it was very positive. So nice not to have to rush off to some loud waitingroom and all the stress from traveling.
They are playing a lot now and are trying to master the dogs. The dogs are so sweet and lets the babies play with them, they are so gentle and careful. All is well in other words, but they are becoming a little to big for all of them to fit in the lap now. Allthough none of them seems to be bothered by that, they just lie on top of eachother.

31:st of May 2007
Time flies and the babies are not so tiny any more. They are getting more and more active, tries to escape their playpen. Lucky for us their are not so good at jumping yet. But they are sweeter than ever.

21:st of May 2007
The babies have already become a month old. They are so sweet and social, always wants to sit in the lap and look at the large world around. They have started playing with eachother and can be real freociuos. Everyting is exciting and scary at the same time. They have started eating food but have not yet fully understood the difference between what actually can be consumed and not.

22:nd of April 2007
The babies have arrived! They are thriving and we are thrilled. Four beautiful little kittens were the result. Asti is a great mom and is seeing to their every need. It is so exciting since this is our first Sphynx litter!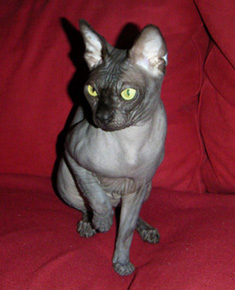 The handsome father!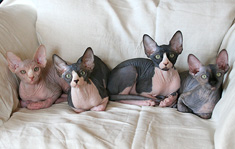 The babies 12 weeks!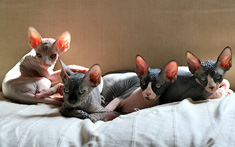 Growing big at nine weeks.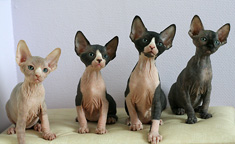 Six weeks babymonsters.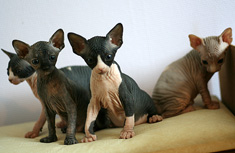 The siblings four weeks.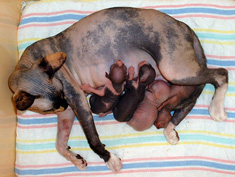 Newborn babies with mom.